Skateboard art by Nick Jensen on display in Royal Cornwall Museum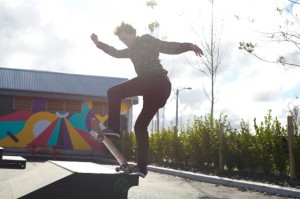 A skateboard painting of a Cornish arrowhead by British professional Nick Jensen is now on display at the Royal Cornwall Museum, Truro, right next to the 3,000 year-old flint artefact that inspired it.
Nick, one of the country's top skateboarders, was inspired to paint the arrowhead after visiting the museum while skating in Truro two summers ago. As part of Bridging Arts' Whatever It Takes project, which he helped to to develop, the deck went on show at Heartlands, Pool, last autumn.
It has now moved to Truro and is on display next to the flint arrowhead, which dates from 2,500 BC- 1,500 BC. Nick says the arrowhead, found by a vicar on Bodmin Moor in the mid 19th century, is a symbol of skill and aspiration.
"Imagine the skills involved not only to craft such an object but also to master using it. I'd like to think that skateboarding in our very different world involves something similar.
"I am inspired by the various different layers of colour which are sandwiched within this flint. They are almost like paintings themselves. The forms are both sharp and curvy and their colours are both opaque and transparent.
"They hold a world of potential and past knowledge in the way the history of painting does too. Anyone who looks at it will understand the benefits of prior knowledge and experience in order to make sense of – and interpret – the future."
The display coincides with a new beginning in Nick's skateboarding career: he has just launched Isle Skateboards with fellow professional Paul Shier. See pictures of their boards here.