A World War One rugby match recreated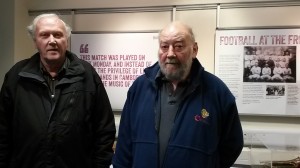 Our project Heart of Conflict is looking at World War One in Cornwall during the centenary years of the conflict. BBC Cornwall's Hannah Stacey created a wonderful feature around the story of the three rubgy matches at the Front played in 1915 after Camborne Rugby Club sent out a ball to local men who had signed up. Three matches between Cornish and Devon soldiers were played.
To listen, click here.
Derek Head (above left) and Chris Negus, the grandsons of Fred Head and Fred Negus, who played, were interviewed – as well as local historian Paddy Bradley and Martin Woolcock, who currently plays for Camborne RFC.
Hannah's feature helped to uncover even more local links and family history. We're now working with Camborne Youth Band on a trip to France and Belgium this summer: the great great grandson of Fred Negus is in the Youth Band and has Fred's bugle – which he intends to play back at the Western Front.