People. Action. Art. We bring people of different cultures, interests and backgrounds together to tackle difficult social issues. We commission work, stage and tour exhibitions, develop educational resources and run workshops.
Current projects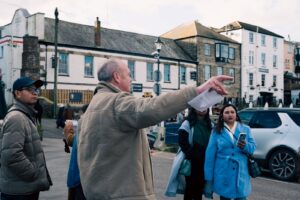 I Packed This Myself working with workers from overseas and local communities to tackle misunderstanding and prejudice in Cornwall. Funded by Cornwall Council.
Key activities
– schools workshops in Romanian and Arabic
– photography workshops for nurses from overseas working at the Royal Cornwall Hospital, Truro
We have produced a range of language postcards supporting this work.
Previous work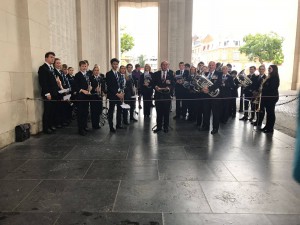 'Not everyone is in the history books but everyone's got a story to tell.' Heart of Conflict at(2014-2019) looked at World War One in Cornwall. This has included three exhibitions and a trip with Camborne Youth Band to the World War One battlefields.
Let's Talk In villages and towns across Cornwall, churches and community groups opened their doors and invited migrant workers (often living in caravans on farms) to social evenings for a cup of tea and a pasty. We created postcards, posters and fact sheets so that people could community and learn more about each other's cultures.
Stitch looked at shared cultural traditions of embroidery and pattern. We worked with Islamic women to create sewing kits and an Education Pack in partnership with the Royal School of Needlework.
The British Sari Story created contemporary British patterns for this iconic garment in the 70th anniversary of Indian independence
Srebrenica Now marked the tenth anniversary of the genocide in 1995 with an exhibition and week of events,
Crimson Harvest brought the work of Serbian refugee artist Pero Mandic to London.
Director
Susan Roberts has worked for charities including Breakthrough Breast Cancer, Christian Aid and the Musicians Benevolent Fund – before co-founding Bridging Arts in 2003. She was Director of Notre Dame Refugee Centre from 2010-14.
Trustees
Kemal Ahson is founder and director of Lifeworld. He has project and research management experience at local, national and international levels.
Andrew Dobbie (Chairman) is a retired journalist, now working part time for the UN refugee agency UNHCR. He has worked in newspapers, radio and news agencies in the UK and abroad in a career spanning more than 40 years. He helped establish the AlertNet website for emergency relief organisations run by the Thomson Reuters Foundation.
Leonora Rae works in a responsible and sustainable investment firm and brings governance and investment knowledge to the board.
"As an art history graduate, I am delighted to join the board of Bridging Arts," she says. "I have seen art and art related activities bring communities and people together in the most wonderful ways. Susan and the Board have done a fabulous job to organise a whole host of diverse and interesting projects and I look forward to contributing to the development and success of future ones."
Background
Bridging Arts was set up in 2003 by Susan Roberts and Julia Fairrie, who were both working for Christian Aid at the time. Julia has since left the charity sector to found the arts consultancy Fair and Co.
Click here to read our privacy policy.