Laying a wreath on Dr William Blackwood's grave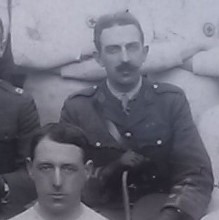 Remembrance Sunday 2020 click here to watch: Laying a wreath on the grave of Dr William Blackwood in Camborne – a World War One hero by anyone's standards.
In 1914 Dr Blackwood led a group of local miners out to the Western Front. They served throughout the war in the 25th Field Ambulance (Royal Army Medical Corps). Dr Blackwood ended the war as a Lieutenant Colonel and was awarded the Distinguished Service Order (DSO) with a bar. In WW1, 9,881 DSOs were awarded but only 768 with an extra bar.
We researched Dr Blackwood and Cornish World War One history as part of our project Heart of Conflict.