WHATEVER IT TAKES – competition winner Darren Myners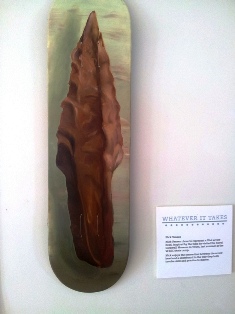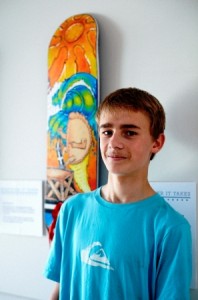 Overall winner of the competition was Darren Myners of Redruth from Richard Lander School in Truro. Darren impressed skateboard professional Nick Jensen – who judged the competition – and scored highly across the criteria used to assess the designs (artistic merit, originality/subject matter, spacial awareness, cultural awareness and inspiration/ability to inspire).
Darren received a deck from S J Skate Store, Truro, as a prize.
Darren explains the ideas behind his board:
"The inspiration for my design is skating and surfing and also Cornish food and the history of mining.
At the bottom of the skateboard are some cliffs and an engine house and chimney.
Above that is a skate ramp with a pasty. The skateboard that the pasty is riding has a Cornish flag on it to show it is Cornish. There is a wave in the background to show surfing culture in Cornwall."
I want to do something with carpentry and art. I'd like to concentrate on art but I'd like to get a trade first."
Darren's board was on display at the Whatever It Takes exhibition at Heartlands, Pool, Cornwall in autumn 2012.