French students honour World War One dead this Remembrance Day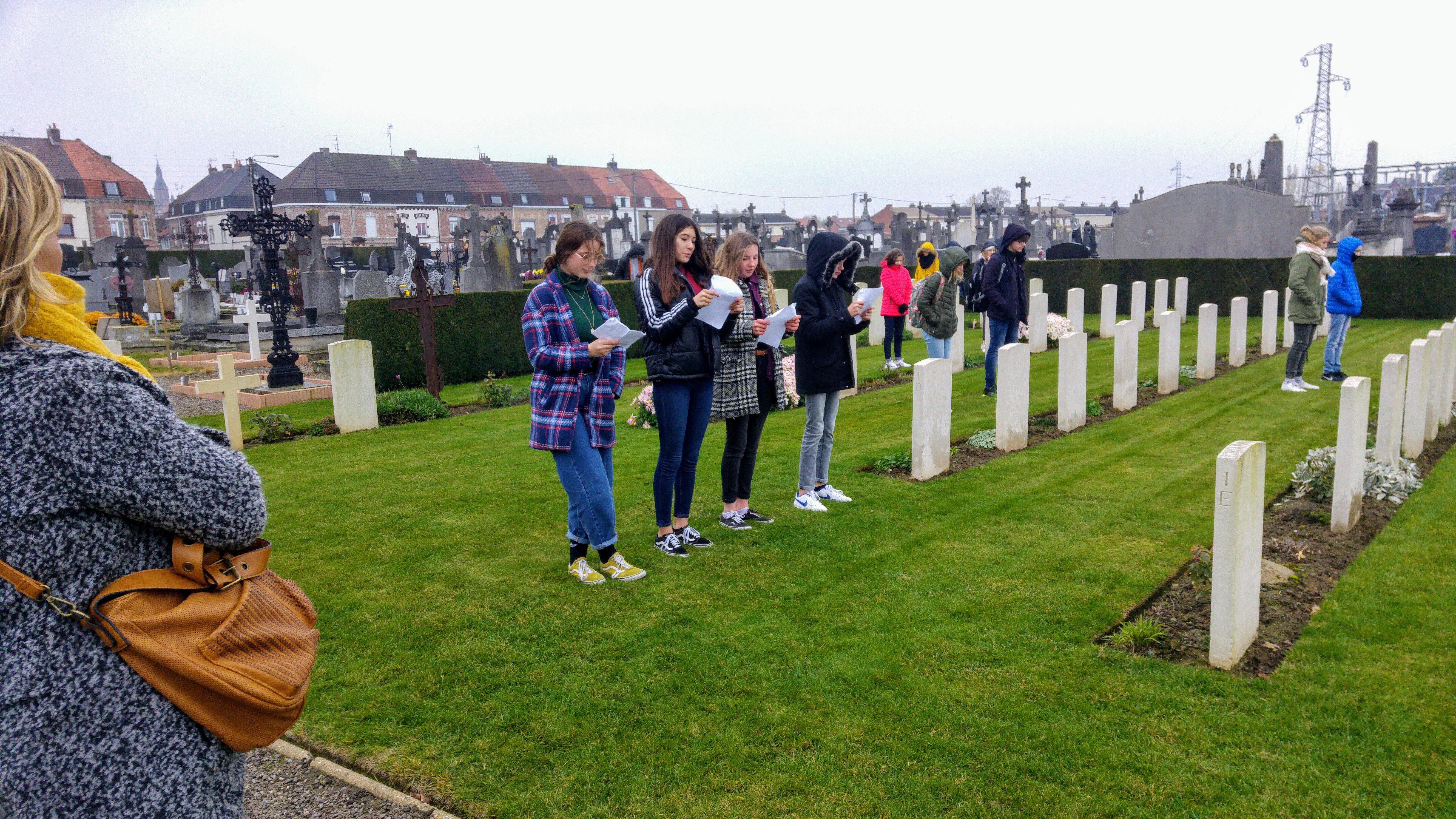 French students at the northern town of Estaires – on the Western Front throughout World War One – made a dignified and moving gesture to mark Remembrance Day this year (2019) by placing wooden crosses with handwritten messages on the hundreds of graves in their local cemetery.
Estaires was hit hard by World War One, virtually flattened after the German Spring Offensive in 1918. Prior to that, Field Hospitals had been operating in the town, based in local schools and factories. Many of the nearly 900 World War One dead who lie in Estaires cemetery died in those hospitals: the College du Sacre Coeur was one of them.
College du Sacre Coeur students braved the bitter cold to walk to the graveyard on Friday 15 November . They read Laurence Binyon's famous lines of remembrance and John McCrae's poem In Flanders Fields.
The school band played the Marseillaise and the National Anthem.
"What beautiful and excellent work," said their teacher Anne Debette who, with her colleagues, worked extremely hard on this project.
Work last year
The students, from the College du Sacre Coeur, have been working with us to mark World War One history over the past 18 months.  In 2018, they staged an exhibition with correspondence from Leslie Pentecost, a Cornish miner, and helped to reunite the descendants of the Smagghue family who in the war years befriended this soldier and other Cornishmen in the town.
A display of the correspondence and postcards telling the story of Leslie's long distance love letters to his sweetheart back in Cornwall. Click here to see a student presenting this to the visitors  and here to see a student explaining the history.
Jean Smagghue, grandfather of two of the Smagghue family who were present, was serving in the French army at the time. He forged a strong friendship with Leslie Pentecost. A student read out a letter that Jean Smagghue sent his English friend – first in French and then translated.  Click here to listen.
Choirs sang and the school orchestra played: click here to listen.
Estaires Town Hall's communications expert Tony Haverland made a film of the whole event: click here to view.
Future work
We're looking forward to working with Anne further over the next few months, developing links between the College du Sacre Coeur and schools in Cornwall.